NEW JLG TRAINING PROGRAM CONNECTS TRAINERS TO CUSTOMERS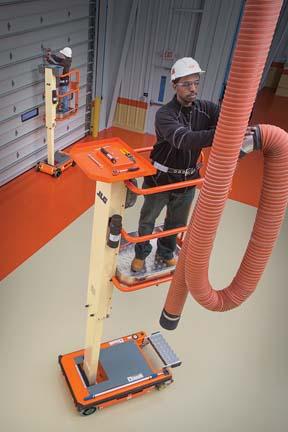 JLG Industries, Inc., a leading global manufacturer of aerial work platforms and telehandlers, has introduced AccessReady, the newest addition to its expanding portfolio of operator training programs.
AccessReady is a program designed to train operators to use JLG and competitive model aerial work platforms (AWPs) and telehandlers safely and efficiently.
"The AccessReady portal connects instructors who have successfully participated and graduated from one of JLG's three Train-the-Trainer programs with equipment rental companies, owners and operators," said Rick Smith, senior director global product training at JLG Industries, Inc. "By enlisting the help of these qualified instructors, JLG end-user customers can comply with legal requirements regarding operator training. The program is not brand specific. It will train operators on specific categories of equipment such as AWPs or telehandlers."
For JLG end-user customers, this means a jobsite where operators are properly trained in safe operating procedures per OSHA and ANSI standards, helping to mitigate the potential for injury. It also equips construction companies, general contractors, and operators with proof of training from a recognized leader in the industry, proof that is often required to work on construction sites.
Operators who complete the training will be qualified for three years for telehandlers and indefinitely for AWPs. Once completing the required training, trainees can order JLG-branded operator ID cards through the AccessReady portal as proof of qualification. In addition, operators, rental companies, and contractors will be able to track their required familiarization with JLG equipment through the AccessReady app. This app will also allow users to track their familiarization on each model an operator will control, as part of its 2018 standards.
Equipment owners and renters can choose either a classroom or online option to complete their training.
For those who select the classroom option, the AccessReady program helps them locate JLG-qualified instructors in their area. Qualified instructors can provide operator training to the customers or employees of an independent rental center or equipment dealer, or directly to a company who owns a fleet of access equipment. Classes can be at the trainee's location or another mutually agreed upon site.
The online class option includes an e-learning course and an area-based option to locate a JLG-qualified instructor to handle the hands-on evaluation necessary to complete operator certification.
Trainers who participate in AccessReady will have access to the JLG learning management system (LMS), including a variety of online learning tools, such as evaluations and forms, as well as the ability to track and maintain training records via the portal.
The JLG network of trainers continues to grow as more trainers complete the JLG Train-the-Trainer programs. Once qualified, trainers opt into the program, making it easy for operators to locate trainers in their area. "We always encourage our customers to periodically check the AccessReady portal for the most up-to-date listings," said Smith.
For more information about AccessReady, please visit https://accessready.jlg.com. For more information about JLG, visit the website at www.jlg.com.
source: https://www.constructionequipment.com/new-jlg-training-program-connects-trainers-customers