GEHL, MUSTANG PUT ON NEW PRODUCT SHOW FOR DEALERS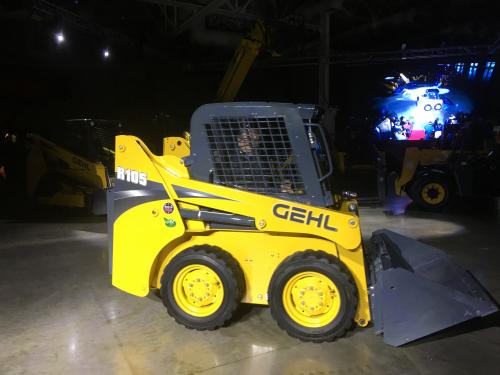 The Gehl R105 skid steer loader has a 48-inch width and is now Tier 4-Final.
Manitou's Gehl and Mustang brands unveiled a number of new products to a group of U.S. and Canadian construction and agricultural dealers at an event in Wisconsin last week.
Construction highlights included the company's largest compact track loader to date, the Gehl VT320 (Mustang 3200VT), a 114-horsepower unit that generates 340 lb.-ft. of torque and has pilot-control joysticks mounted to the armrests of the seat.
The RT165 (Mustang 1650RT) is another new CTL, coming in at 69.9 horsepower with a rated operating capacity of 1,650 pounds. It's positioned to help round out the company's product offering. "We're adding to the range and bracketing the segment," said Brian Rabe, product development manager for the Compact Equipment Product division. "This is not just a skid steer loader with tracks on it."
High-flow and air-conditioning options will be available.
On the skid steer side, the Gehl VT420 (Mustang 4200V) is a 120-horsepower machine that features added capacity and more power through its Tier 4-Final Deutz engine. Key specs include 350 lb.-ft. of torque and a lift capacity of 4,200 pounds.
Gehl's small R105 skid steer (Mustang 1050R) has a narrow 48-inch width and is now Tier 4-Final. It replaces the Gehl 3640E and Mustang 2026.
Gehl also introduced two telehandlers, the RS5-19 Gen:3 (Manitou MTA 5519 Series II) and RS9-50 Gen:2 (Manitou MTA 9050 Series II). The RS5-19 now has a single joystick control. "This gives operators the ability to shift while boom functioning," Rabe said. "The RS9-50 is a true production telehandler with that can lift 5,000 pounds to 50 feet high without outriggers. We call it a 'reach, landing, reach' machine targeted at masonry contractors."
In addition, two new compact excavators debuted to dealers, one on each end of the company's range. The Gehl M08 (Mustang 80M) will be its smallest, a Yanmar-powered unit targeted at the rental and landscape market. It can fit through backyard gates. The M100 (Mustang 1000M) has a 14-foot dig depth and the ability to replace backhoe loaders, according to Rabe.
These, and other new products, will be rolled out throughout 2017.
source: https://www.constructionequipment.com/gehl-mustang-put-new-product-show-dealers