VOLVO PL4809E PIPE LAYER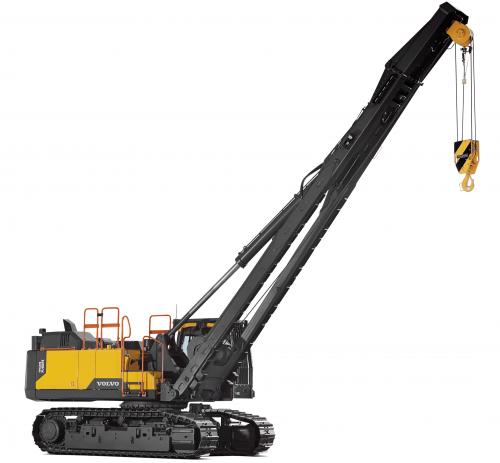 The PL4809E pipe layer has a tipping capacity of 242,000 pounds and can work on slopes of up to 35 degrees. It has a 360-degree swing capacity.
An optional boom extension provides the same lifting capacity but with improved reach and hook height. In 4.5 hours, the pipelayer can be converted into a standard excavator by replacing the pipe-layer boom with a boom from an optional digging kit.
The cab can be elevated hydraulically to improve the operator's view of the job site and the trench. The Load Management System (LMS) enables operators to manage and monitor loads, alerting them when the limit is reached. An LMS light bar on either side of the boom has three different colors of light to indicated the pipe layer's load status to other operators and ground workers. An anti-two-blocking system includes a sensor to prevent winch blocks from coming into contact during lifting. Side and rear-view cameras increase visibility around the machine.
VOLVO PL4809E SPECIFICATIONS
Engine: Volvo D13J Tier 4 Final
Gross power: 372 horsepower @ 1,800 rpm
Operating weight: 129,000-142,500 pounds
Max. tipping capacity: 242,000 pounds
Rated capacity: 110,231 pounds
Standard boom length: 30 feet 2 inches
Extended boom length: 36 feet 9 inches
SOURCE: http://www.constructionequipment.com/volvo-pl4809e-pipe-layer