VOLVO DEBUTS ITS LARGEST EXCAVATOR TO DATE AT MINEXPO 2016
The EC750E was designed to deliver heavy lifting power and high productivity without sacrificing the benefits for which Volvo is known, like best-in-class fuel efficiency. The machine is capable of delivering up to 15 percent higher productivity with 5 percent greater fuel efficiency than its predecessor, the EC700CL.
"As customers are being asked to move more tons in fewer hours and for less cost, we're helping them meet those demands with the EC750E," said Rob Palermo, product manager, GPE products at Volvo Construction Equipment. "With the latest Volvo engine technology and a new fully electro-hydraulic control system, coupled with numerous improvements to the operator environment and safety features — this is truly the best high-production excavator our North American customers have ever seen."
Powerful production, durable design
Productivity gains are due in part to a more powerful engine — the Volvo D16J. The 516-horsepower, Tier 4 Final engine provides an 11 percent horsepower increase over the EC700CL. When combined with larger diameter boom cylinders and increased working pressure, the EC750E delivers a 7 percent increase in digging force and a 4 percent boost in hydraulic flow, helping make large loads look small and big jobs look easy.
Further increasing productivity is a new range of buckets designed specifically for use with the EC750E, including general-purpose, heavy-duty and extreme-duty designs, which offer up to 10 percent more bucket capacity. The reinforced booms and arms, designed for durability with high strength tensile steel, allow customers to select the exact combination of forces that will get the job done in less time at less cost. For added protection and reliability in severe conditions, steel strips are welded under the arm, and a built-in, heavy duty plate is featured on the underside of the machine.

Increased size, decreased fuel consumption
Gains in power have come while remaining true to the fuel efficiency standards for which Volvo is known and guarantees. While the EC750E weighs three tons more than the EC700CL, it still manages to lower operating costs with a 5 percent gain in fuel effiency. New to Volvo's arsenal of fuel efficient design elements is a redesigned, fully electro-hydraulic control system. Where previous hydraulic control systems created staggered flow effects as operators moved between work modes, the new hydraulic control system creates a smooth pump flow as operators move between modes — creating stronger controllability, higher productivity levels and fuel efficiency gains. Also present is Volvo's unique ECO mode system. As operators select the best work mode for the job at hand — Idle, Fine, General or Heavy — ECO mode optimizes the hydraulic system to reduce loss of flow and pressure, helping ensure the machine doesn't expend unnecessary power or fuel.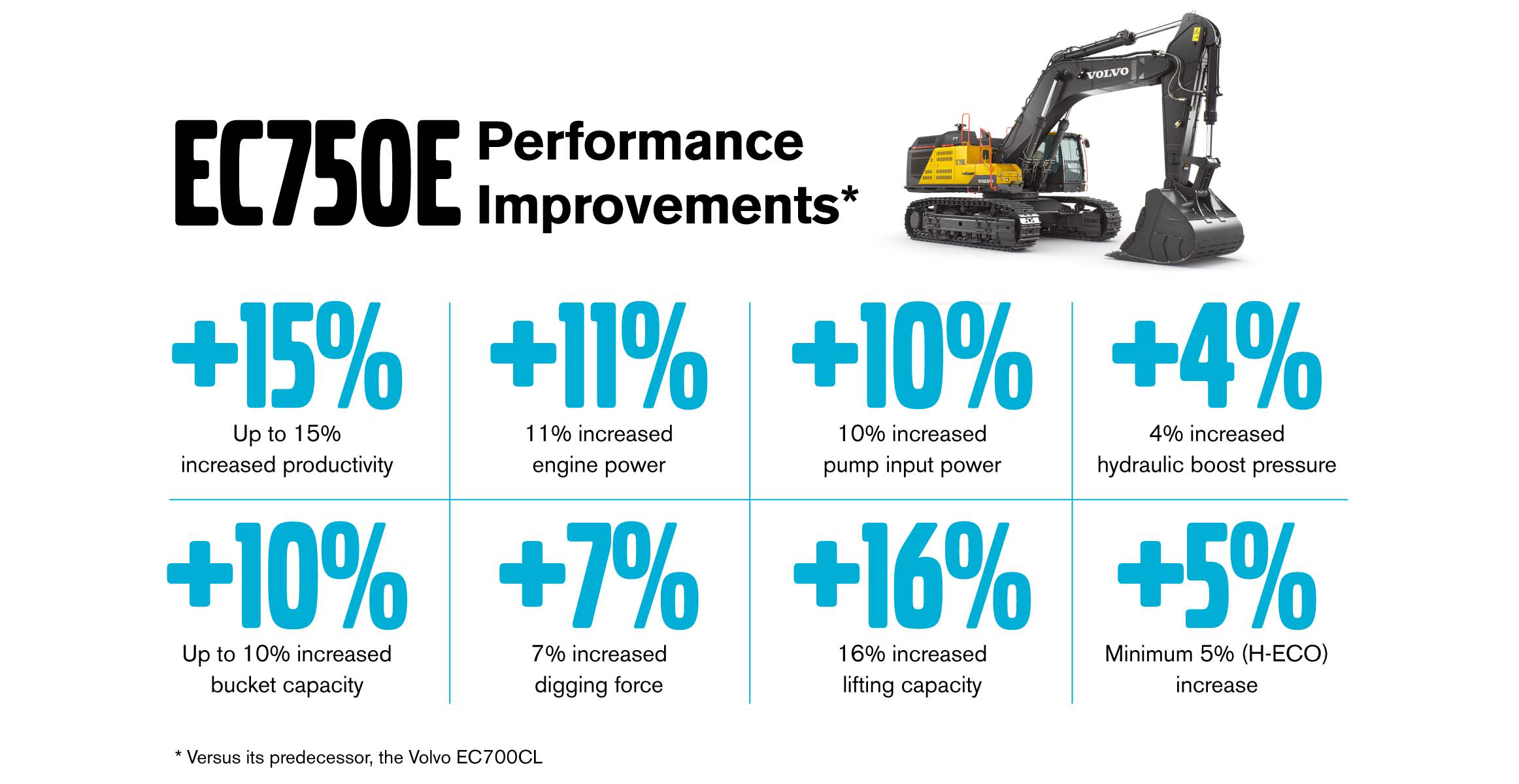 Easy, comfortable operation
The EC750E includes updates which will allow operators to be more efficient, including a reduced number of switch controls within the cab, and a new, 8-inch LCD display and interface which provides operators with more efficient control. All of these tools sit inside what remains the industry's best-in-class cab. Improvements to visibility have also been made with the addition of brighter LED work lights and a side view camera, which can be viewed instantly on the in-cab LCD monitor via a shortcut button on the joystick.
Safe, simple servicing
To expedite servicing, filters are grouped and easy to access via walkways on either side of the machine, while greasing points are grouped and accessible from one position. New features also include an optional auto lubrication system, which precisely supplies the correct lubrication to all greasing points (except the undercarriage) at predetermined time intervals.
Volvo continues to reinforce its dedication to safety with its new E-Series styling on display in the EC750E. Handrails have been made more visible, and anti-punch slip plates provide superior grip and safety. While helping ensure a safer operation, these elements also have practical benefits like easier cleaning and increased cooling performance.
Preventive maintenance is also made easier with a standard six-year subscription to CareTrack®, Volvo's telematics system, which allows the fleet manager to remotely receive service alerts, track machine location and better manage service intervals.
Backed for a lifetime
Volvo understands these machines were inherently built to be put to the test. Volvo stands behind the unmatched durability of the EC750E's reinforced frame structures, undercarriage, and boom and arm with a Lifetime Frame and Structure Warranty. The warranty ensures Volvo or an authorized dealer will repair or replace components of the frame, boom and arm of the excavator as necessary during the full life of the equipment under the initial owner.