TEREX SHIFTS MIXER TRUCKS TO MATERIALS PROCESSING GROUP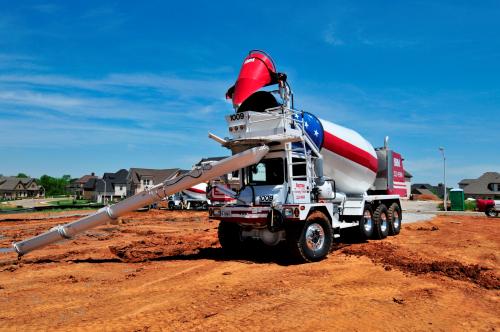 Terex Corp. has moved its Terex Mixer Trucks from the Terex Construction Americas specialty products portfolio to the Terex Materials Processing segment. The trucks join Fuchs material handlers, Terex Bid-Well automatic roller pavers, and Powerscreen, Terex Finlay, and other Terex minerals processing and washing equipment in the Materials Processing portfolio.
"Terex Mixer Trucks are a longstanding and important part of the Terex business portfolio, and Terex positioned the trucks in a strong business segment where they can expand and continue to help customers meet their production goals," said John Leech, General Manager for Terex Mixer Trucks and Terex Bid-Well. "This has been a seamless transition that has not affected our mixer trucks customers.
Mark Aubry has been named Director of Customer Engagement Strategy, Sales and Service Organization (CESO) for Terex Mixer Trucks. He replaces David Rinas, who held the Director of Sales position since August 2008, and announced his planned retirement from the position earlier this year.
Aubry now leads all customer-facing activities, including sales, service and aftermarket parts teams, and he is responsible for strategic sales planning and staffing for Terex front discharge mixer trucks. In addition, his responsibilities include the development and implementation of a strategic sales plan to enhance customer interaction, grow market share, and achieve company goals and objectives.
Prior to joining the Terex mixer truck team, Aubry served as the Vice President of Sales and Marketing for the components division of a Canadian alternative fuel transportation company. He has also led the sales and marketing teams for a multinational truck manufacturer and a global manufacturer of aerial work platforms.
"Dave (Rinas) successfully led the Terex truck business through one of the deepest market downturns in history and has positioned the truck segment for growth. He has left big shoes to fill," says Aubry. "The Terex front discharge mixer truck design is solid and offers many production-enhancing features for customers. I am excited to work with our talented team and ready mix truck operators to help grow their businesses through the use of Terex mixer trucks."
"Over the years, I have witnessed the evolution, transformation and resiliency of the construction materials and equipment business from several perspectives," said Rinas. "I have been fortunate to have several mentors during my career and have met hundreds of friends, colleagues, and, most importantly, customers along the way. Clearly the industry will continue to transform and evolve as I depart the business, and Terex has selected the right person in Mark (Aubry) with the right experience and skills to lead the evolution of Terex Mixer Trucks to meet the market's needs."
Source: Terex