TEREX ADVANCE FD400 MIXER UPGRADES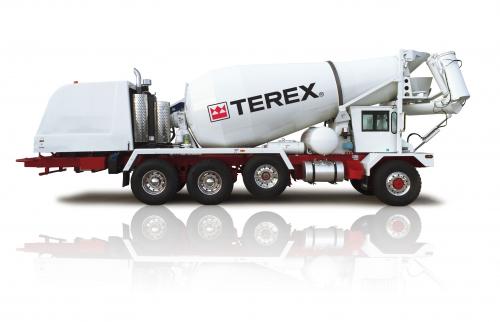 The Terex Advance FD4000 front-discharge mixer has a number of component upgrades that, according to Terex, reduce the vehicle's weight, increase payload, and improve performance. The mixer's lighter-weight rear-tandem-axle design allows the use of either super-single or dual tires. The Meritor DualTrac rear axles feature disc brakes for reduced stopping distances, and design changes in the wheel-bearing area redistribute loading forces. A new SAF Holland Vocational air-drive rear-tandem suspension reduces weight and features a one-piece integral lower module that eliminates the conventional bushing design for a 25-percent gain in stability, says Terex.
In addition, premium shock absorbers are used, says the company, to improve ride and longevity, and the new suspension incorporates welded-axle and single EZ-Align connections to eliminate maintenance and simplify alignment procedures.
Terex Advance also now offers as an option for the FD4000 truck the ZF CML 12 drum drive with a re-engineered pedestal mounting that reduces truck weight, compared with other drive designs, to increase payload capacity. The truck's standard 11-cubic yard drum is constructed with a 3/16-inch-thick hardened AR400 brinell steel shell to provide the optimum balance, says Terex, between wear-resistance and low weight to maximize payload.
SOURCE: https://www.constructionequipment.com/terex-advance-fd400-mixer-upgrades