TAKEUCHI TB216H HYBRID EXCAVATOR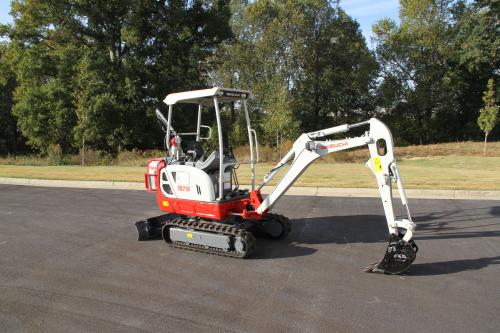 The dual-powered TB216H excavator has a 14.2-horsepower electric motor and a 14.9-horsepower diesel engine with its own pump group to power hydraulics, which allows the machine to work indoors as well as outdoors.
Operating weight is 4,277 pounds, bucket breakout force is 4,250 pounds, and maximum dig depth is 7 feet 10 inches with a maximum reach of 13 feet 5 inches. The retractable undercarriage moves from 51.2 inches to 38.6 inches. The blade has bolt-on extensions so it can match the undercarriage width.
For electric-powered use, the machine requires a 400- to 480-volt three-phase power source.
SOURCE: http://www.constructionequipment.com/takeuchi-tb216h-hybrid-excavator
The WC2500TX tracked wood chipper has a 600-horsepower Tier 4-F engine that enables it to handle whole trees. It comes with either a microchip drum, which produces chip sizes between 1/8 and 5/8 inch, or a macrochip drum, which produces chips between 5/8 and 1 1/4 inches. High-wear areas—such as the drum, discharge chute, cutter
www.tractopart.com TENEMOS PIEZAS ORIGINALES, PARTES DE REEMPLAZO, RECONSTRUIDO Y USADOS CON GARANTÍA.
Una vez más, como ha sido cada año por medio desde 1995, los distintos estamentos que componen la industria minera se reúnen en una de las citas más importantes del sector, la Exhibición de Tecnologías e Innovaciones Globales para la Minería, Exponor. Con sede en Antofagasta, durante una semana se convierte en el polo de
ACTUALIDAD EMPRESARIAL. Más de 2 mil operadores de equipos pesados participan en tercer concurso organizado por Ferreycorp.
The 750 X4 excavator has an operating weight of 158,300 pounds, and is powered by a 512-horsepower Isuzu engine. Cycles times have been boosted by 7 percent, and arm digging force by 15 percent, compared to the predecessor. Digging depth is 32 feet 4 inches with 64,970 lb.-ft. of arm force. Bucket digging
La compleja situación por la que atravesó la minería en 2016 se dejó sentir en la recaudación fiscal. Es que la caída en el valor del cobre y la disminución de las leyes mineras impactaron fuerte en el royalty, cuya recaudación alcanzó su menor nivel en la historia del impuesto específico que se creó en