SEVEN CASE G SERIES WHEEL LOADER MODELS HEAVY ON VERSATILITY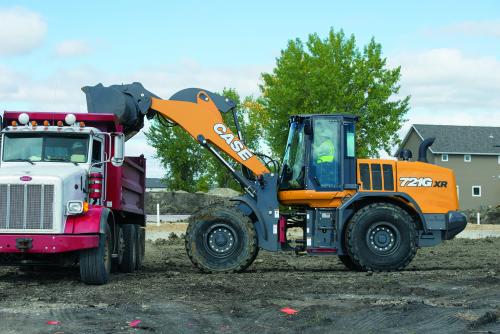 Case G Series wheel loaders span seven new models (521G to 1121G) scaled for work ranging from supply yards, building construction, and agriculture, up to quarries and mass excavation. The introduction brings the entire product line to Tier 4-Final compliance using SCR technology.
Packages/options are available to optimize the loader family for work in specialty applications such as waste/scrap, agriculture, and snow removal.
Linkage options include Z-bar (best breakout force and general operation), XR (extended reach), and XT (tool carrier/parallel-lift configuration for handling stacked/palletized materials). Each loader comes standard with a four-speed PowerShift transmission, and an optional five-speed transmission with lock-up torque converter is available on the 721G, 821G and 921G for roading speeds up to 25 mph.
Each loader also provides a number of tire and axle options based on operating environment. The 521G through the 821G feature a standard limited slip differential that equally supplies torque to each side of the axle and automatically applies additional torque to the gripping tire. The 921G through the 1121G feature a heavy-duty axle with open differential for working on hard packed or improved surfaces, especially when using solid tires. All models are available with an optional heavy-duty axle with auto-locking front differential for use on hard surfaces and with solid tires and, depending on conditions, can transmit 100 percent of the front axle tractive effort to the gripping wheel.
CASE G SERIES WHEEL LOADER SPECIFICATIONS
Model
521G
621G
721G
821G
921G
1021G
1121G
Horsepower
141
172
195
230
255
320
347
Bucket capacities
2.1 – 2.6 cubic yards
2.5 – 4.5 cubic yards
3.0 – 5.5 cubic yards
3.5 – 4.5 cubic yards
4.0 – 4.75 cubic yards
4.75 – 5.5 cubic yards
5.25 – 6.25 cubic yards
Breakout force
20,937 pounds

(9 497 kg)

27,282 pounds

(12 375 kg)

33,810 pounds

(15 336 kg)

40,608 pounds

(18 420 kg)

42,254 pounds

(19 116 kg)

49,787 pounds

(22 583 kg)

56,245 pounds

(25 512 kg)
SOURCE: http://www.constructionequipment.com/seven-case-g-series-wheel-loader-models-heavy-versatility