JOHN DEERE OFFERS THREE MODELS OF SNOW UTILITY V-BLADE ATTACHMENTS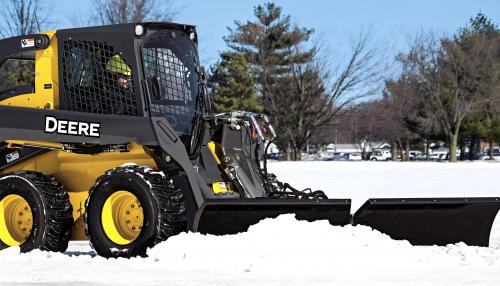 Three models (BV6, BV8 and BV9) of John Deere snow utility V-blade attachments deliver four hydraulic angling positions—straight for making larger cuts, V-configuration for pushing through hard-pack, scoop (both sides inward) for snow stacking, and 30-degree right or left positioning for moving snow or dirt.
The blades feature an electrohydraulic (EH) valve for independent blade function that operators can control from the cab. A rubber cutting edge is also available for the blade to help prevent damage to decorative surfaces. Trip springs help protect the vehicle from sudden impacts with concealed obstacles and can be locked out for light grading and dirt work. V-Blades are optimized to work with John Deere E Series and 313/315 SSLs, E Series CTLs and K Series compact wheel loaders. They're also compatible with many competitive models.
The gold mine in North Mara is situated in the north-west of Tanzania, at about 100 kilometres east of Lake Victoria and 20 kilometres south of the border with Kenya. The gold mine works an average of 8,000 tonnes of minerals a day and produced 287,188 ounces of gold in 2015. The gold
Workers' Memorial Day, observed each year on April 28, honors workers killed, injured, or made ill at work. Since 1992, BLS has collected data on both nonfatal work injuries and illnesses that result in days away from work, and fatal work injuries. In 2015, the occupations with the highest number of nonfatal injuries and illnesses
The undercarriage of a machine represents a significant portion of a piece of equipment's purchase price. Proper maintenance and operation practices are critical for protecting your equipment investment. Undercarriage maintenance is critical to the overall productivity of a machine. It is the mechanism that gives tracked machines much of their power and stability. It also
John Deere is now offering a 96-month / 20,000-hour power electronic components warranty on the Deere 944K hybrid wheel loader. The warranty is retroactive to existing machines in the field and provided on new 944K loaders through October 31, 2018. The warranty includes a 96-month (eight-year) or 20,000-hour (whichever comes first) non-prorated assurance on wheel
Vermeer's Silver Series drill rod is composed of S135 common grade steel and is threaded in the same facility as the company's Firestick drill rod with the same column wall thickness. The Silver Series drill rod is available in four sizes: 1.66-inch, 1.9-inch, 2.06-inch, and 2.375-inch, for use on the D7x11 through the D24x40
Datos de Cámara Chilena de la Construcción estimaron retroceso de 7,5% en febrero que se suma al -10% de enero. Se busca consolidar esfuerzos público-privados para enmendar el rumbo. Por primera vez desde el año 2002, cuando se comenzó a publicar el Índice de Actividad de la Construcción Regional (INACOR), la Región de Coquimbo inicia