JCB TO BUILD 1,600 ROUGH TERRAIN FORKLIFTS FOR US ARMY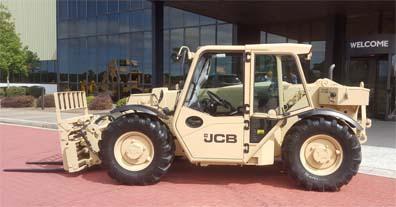 JCB has started 2017 by winning one of the biggest single orders in its 71-year history – a $142-million deal to supply the United States Army with a fleet of machines. The company announced today that the U.S Army is to take delivery of more than 1,600 light-capability rough terrain forklifts for deployment on tasks around the world including loading and unloading aircraft and shipping containers.
The new 527-58M forklift is engineered from JCB's range of commercial Loadall telescopic handlers – a machine which this year celebrates 40 years in production and which is the biggest-selling product of its kind in the world.
JCB CEO Graeme Macdonald said: "This order is fantastic news for JCB and a great way to start the New Year. It is the second-highest-value order in the company's history, and I congratulate everyone who has worked to secure this valuable contract in the same year that we mark 40 years of telescopic handler production."
The new 527-58M light-capability rough-terrain forklifts will be produced at JCB's North American Headquarters in Savannah, Georgia. They will be powered by the 84hp (63kW) JCB DieselMax engine produced at JCB Power Systems in Derbyshire, UK.
At 80 inches (two meters) wide and 78 inches (1.98 meters) high, the military spec 527-58M is optimized to work in confined spaces. With a travel speed of 20 mph (33 kph), the machine has a maximum lift capacity of more than 5,000 lbs (2.26 metric tons) and a lift height of 19 ft (5.8 meters). The 527-58M has been marinized to meet the operational needs of the services during wading and fording.
Arjun Mirdha, CEO and President of JCB North America, said:  "We are proud that the U.S. Army has once again chosen JCB and its Savannah-based manufacturing facility to produce an extraordinary piece of specialized equipment. Over the past three decades, JCB has supplied more than 4,000 machines to armed forces in 57 countries, and we have acquired a deep understanding of how the Army uses equipment and the unique features needed."
Chris Giorgianni, JCB North America's Vice President – Product Support and Government & Defense, said: "JCB now offers more than 300 'commercial off-the-shelf' (COTS) solutions for the military. Being chosen to produce this military-specific forklift builds on the broad range of JCB products that can be modified to meet the most gruelling military conditions.
"The 527-58M is designed to minimize military operational costs with a two-year service warranty and extended service intervals with parts available from distribution centers in JCB's worldwide network, making it faster and more efficient for the U.S. Army to maintain and service the new forklifts."
SOURCE: http://www.constructionequipment.com/jcb-build-1600-rough-terrain-forklifts-us-army