JCB INTRODUCES FIRST AERIAL LIFT PRODUCTS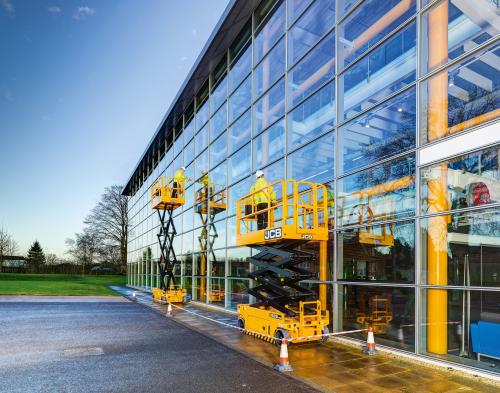 JCB introduced its first nine products to signal its entrance into the aerial lift market. By the end of the year, the company will have 27 machines in its new JCB Access lineup:
Nine electric and three diesel scissor lifts from 15 to 45 feet
Five telescoping articulating boom lifts from 49 to 81 feet
10 diesel telescopic boom lifts from 67 to 136 feet
The scissor lifts weigh between 2,932 to 7,421 pounds. The two smallest models (S1530E and S1930E) have work platforms platforms measuring 5.4×2.5 feet, the largest (S4550E) has a platform measuring 8.7×2.5 feet platform, and the rest use 8.2×2.5-foot work platforms. Platform capacity ranges from 500 to 1213 pounds.
The electric scissors are powered by four 6V or 12V batteries, with hydraulic drive. "The access market is a truly global market and offers immense opportunities for growth for JCB," said JCB Chairman Lord Bamford. "It's a market that is ripe for a new supplier with the ability to offer industry leading, round-the clock-product support. JCB's 770 dealers with 2,200 depots can deliver the back-up that global customers expect."
JCB's dealer network has been undergoing full sales and service training to be able to provide world-class back-up for the access platform ranges, the company said. Its LiveLink telematic system will be incorporated as standard on all booms, and available as an option on the scissors.
source: https://www.constructionequipment.com/jcb-introduces-first-aerial-lift-products