Construction underway for artificial reef in Vermilion Bay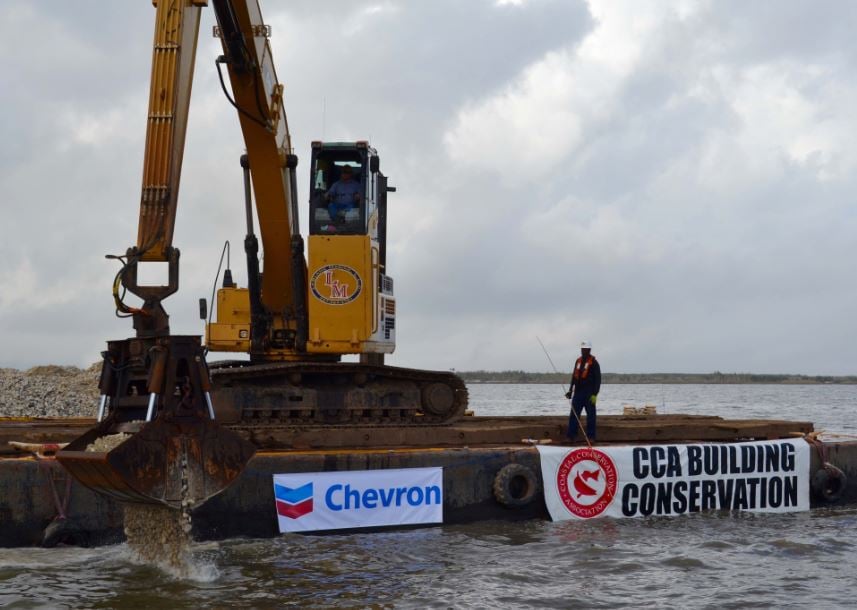 Coastal Conservation Association of Louisiana, Chevron, DLS Marine and the Louisiana Department of Wildlife and Fisheries will began construction Friday morning on an addition to the Redfish Pointe II artificial reef system in Vermilion Bay.
The original build of Redfish Pointe II Reef occurred in the fall of 2006 with 3,500 tons of limestone. This new reef calls for the deployment of roughly 4,000 tons of 4-inch limestone that will cover between three to four acres.  The reef will provide habitat for larger vertebrates and contribute to the overall ecosystem productivity.
"As Louisiana continues to battle the effects of coastal erosion and habitat loss, we have made it a priority at CCA to build new habitat as often as possible," said CCA Louisiana's Habitat Chairman John Walther.  "This expanded site in Vermilion Bay will slow down wave action, provide ideal habitat for marine organisms, and should soon become a fishing hotspot.  We expect anglers from the area will begin to see speckled trout and redfish on this reef as early as next spring."
CCA Louisiana is the largest marine resource conservation group of its kind in the state. In its 32nd year with more than 30,000 members and volunteers in 26 local chapters, CCA has been active in state, national and international fisheries management issues since 1977.
Visit www.CCALouisiana.com for more information.