ATLAS COPCO POWERROC T45 DRILL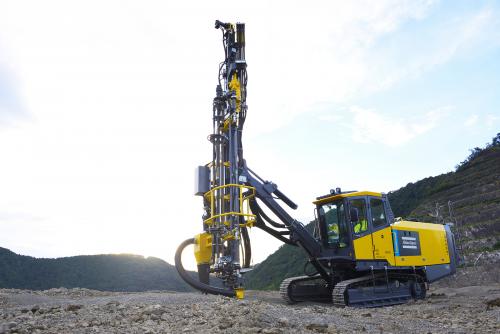 The PowerROC T45 surface drill has a telescoping boom and drills holes from 3 to 5 inches in diameter. It has an RD 22S hydraulic drill and 370-cfm air compressor. Power Eco allows the operator to select engine speeds—2,000; 2,100; or 2,200 rpm.
A 20-foot lead rod plus a three-rod, carousel-style rod-handling system provides on-board depth capacity to 54 feet with single-pass capability of 18 feet. A hydraulic smooth drilling system controls the rock drill power level, feed force, and rotation torque in response to changing rock conditions.
source: https://www.constructionequipment.com/atlas-copco-powerroc-t45-drill
The WC2500TX tracked wood chipper has a 600-horsepower Tier 4-F engine that enables it to handle whole trees. It comes with either a microchip drum, which produces chip sizes between 1/8 and 5/8 inch, or a macrochip drum, which produces chips between 5/8 and 1 1/4 inches. High-wear areas—such as the drum, discharge chute, cutter
www.tractopart.com TENEMOS PIEZAS ORIGINALES, PARTES DE REEMPLAZO, RECONSTRUIDO Y USADOS CON GARANTÍA.
Una vez más, como ha sido cada año por medio desde 1995, los distintos estamentos que componen la industria minera se reúnen en una de las citas más importantes del sector, la Exhibición de Tecnologías e Innovaciones Globales para la Minería, Exponor. Con sede en Antofagasta, durante una semana se convierte en el polo de
ACTUALIDAD EMPRESARIAL. Más de 2 mil operadores de equipos pesados participan en tercer concurso organizado por Ferreycorp.
The 750 X4 excavator has an operating weight of 158,300 pounds, and is powered by a 512-horsepower Isuzu engine. Cycles times have been boosted by 7 percent, and arm digging force by 15 percent, compared to the predecessor. Digging depth is 32 feet 4 inches with 64,970 lb.-ft. of arm force. Bucket digging
La compleja situación por la que atravesó la minería en 2016 se dejó sentir en la recaudación fiscal. Es que la caída en el valor del cobre y la disminución de las leyes mineras impactaron fuerte en el royalty, cuya recaudación alcanzó su menor nivel en la historia del impuesto específico que se creó en