$500M energy plant under construction in Greater Cincinnati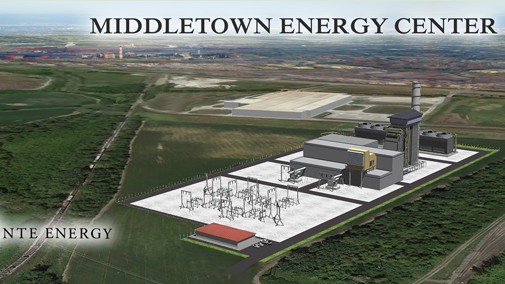 Michael Schuster, project developer at NTE Energy, said with the land acquired construction started earlier this month.
Also at the beginning of the month, St. Augustine, Fla.-based NTE Energy closed $645 million in project financing for construction and operation of its Middletown Energy Center. The financing includes NTE's partners, Capital Dynamics and Wattage Finance-OH LLC, providing $243 million in equity and a group of seven financial institutions, led by BNP Paribas and Credit Agricole Corporate and Investment Banks, providing $402 million in various senior secured credit facilities.
Middletown Energy Center is expected to be a state-of-the-art 475 megawatt natural gas-fired electric generating facility that will sell capacity into the PJM wholesale electricity market. The facility will be one of the most efficient and clean sources of capacity and energy using Mitsubishi's GAC turbine technology. Once open, the center will supply the power needs of about 400,000 homes. Operation is expected to begin in 2018.
Gemma Power Systems LLC will build the facility under an engineering, procurement and construction services contract and NTE Energy Services Co. LLC will be the construction and asset manager.
The facility is expected to create about 300 to 400 jobs during construction and 25 to 30 full-time positions during operation.
"The project's successful financing exemplifies the accomplishments of our team and partners, and is an important milestone in our mission to bring reliable, efficient and clean power to the United States," Seth Shortlidge, CEO of NTE Energy, said in a news release.
NTE Energy, through its affiliates, develops and acquires electric generation and transmission facilities in North America.
Wattage Finance-OH LLC is owned by a group of private investors and advised by Guggenheim Partners Investment Management LLC. Capital Dynamics is an independent, global asset manager investing in private equity and clean energy infrastructure. Capital Dynamics currently has $19 billion in assets under management, advisement and administration.